Jelly Roll- One Night Only!
Sold Out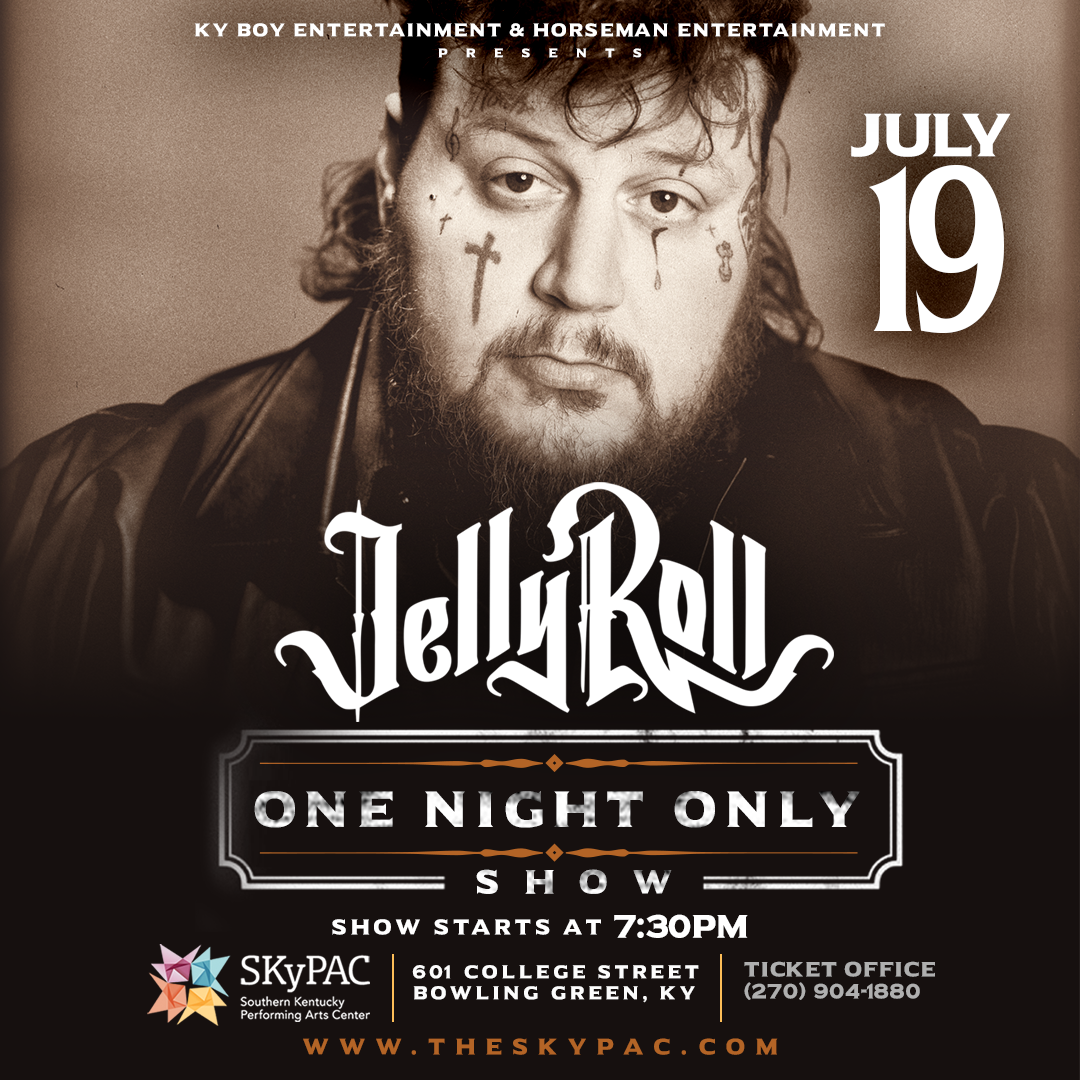 Tickets are SOLD OUT.
A 3X CMT Award winner, Jelly Roll has independently amassed more than 4 Billion career streams to date. He scored his first No. 1 on Country radio with his debut Country single "Son Of A Sinner" and earned a two-week Rock No. 1, that "cemented his rising mainstream stardom" (Tennessean) after dominating Billboard's Emerging Artist Chart for a record-breaking 25 consecutive weeks – ultimately breaking the record of most weeks spent at No. 1.   His current single, "Need a Favor" is top 10 at country radio and Top 5 at rock radio, and is the first song in history to chart top 10 on both formats.
Jelly performed his breakout song, "Save Me" for the first time on television during this year's ACM Awards on Amazon, bringing the crowd to its feet with an unexpected surprise duet version of his massive hit, featuring Lainey Wilson. A show stopping moment during his live shows, "Save Me" continues to generate unprecedented fan response- earning more than 171 million views on YouTube and Platinum certification from the RIAA. The never-before-heard version featuring Lainey Wilson, was immediately released on DSPs following the ACM performance and is featured on Jelly Roll's Country debut project—Whitsitt Chapel that just dropped on June 2nd.
ABC News Studio recently released "Jelly Roll: Save Me," a documentary produced for Hulu, featuring exclusive access, never-before-seen tour footage, and interviews with Jelly Roll and those closest to him, "Jelly Roll: Save Me" reveals a raw and unflinching artist, incarcerated as a teen and adult, now using the power of his platform to raise awareness and funds for at-risk youth across the country. Jelly Roll shares a behind-the-scenes look at how he balances life on tour with his philanthropic work, including visiting the juvenile detention facility where he was incarcerated multiple times to share his story and inspire positive change.
"His music takes those raw, unreserved verses and melds elements of country, rock, and hip-hop into his own signature style." -Billboard
"When it comes to music, Jelly Roll's heart is often right—singing with a profound amount of emotion and tact, the songs and their revealing lyrics soar to brilliantly uplifting heights, shining light onto some of life's darkest circumstances." -American Songwriter
Jelly Roll- One Night Only!