Elm Street Society
The Elm Street Society is an organization consisting of donors who have made multi-year pledges to support Arts of Southern Kentucky. All pledges are five-year commitments that allow the organization to make long-range plans and to keep live performing arts flowing in our region.
Membership begins at $1,000 per year (can be paid in monthly installments)
Contributions toward Arts of Southern Kentucky are tax-deductible
Be among our cornerstone supporters keeping the arts vibrant for this region
See below for multiple membership benefits associated with each Elm Street Society level
Member Benefits
Benefits for Beethoven, Gershwin, Mozart, Bach giving levels only:
Priority for all seating changes
Two complimentary tickets to one performance, as available
Benefit for Bernstein giving level and above:
Name plate on theater seat for duration of membership
Benefits for all Elm Street Society giving levels:
Discounted beverages, including cocktails, in the donor lounge
Invitations to private parties – four per year
Invitations to "Meet the Artist" receptions
Invitations to special trips
Presentation of Italian marble handcrafted Beethoven bust
Priority access to special concerts and events
Special parking privileges, based on availability
Private entrance for events Pre-order drinks for intermission
Plus all other benefits from the other Friends of ASK giving levels, including: 
Monthly e-newsletter
Discounts to participating restaurants
Access to ticket discounts for ASK-presented performances
Donor recognition on philanthropy wall, gratitude report and performance programs when produced
Invitation to Broadway Breakfast: engage in an in-depth discussion with company members of a Broadway tour
Behind the Scenes Invitation: peek behind the curtains at a production of the season
One 20% off snack coupon: redeemable for one trip to the concessions bar
One 20% off drink coupon: redeemable for one trip to the bar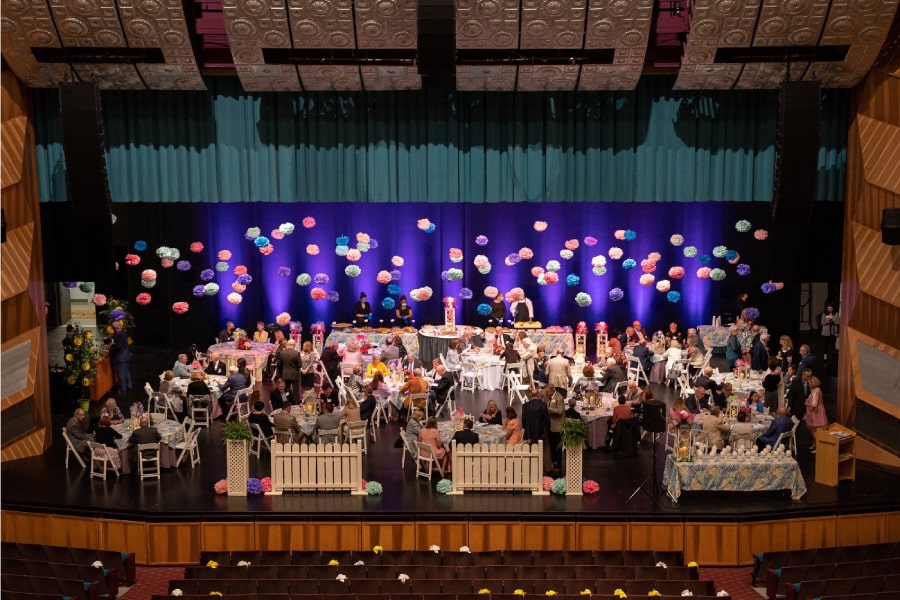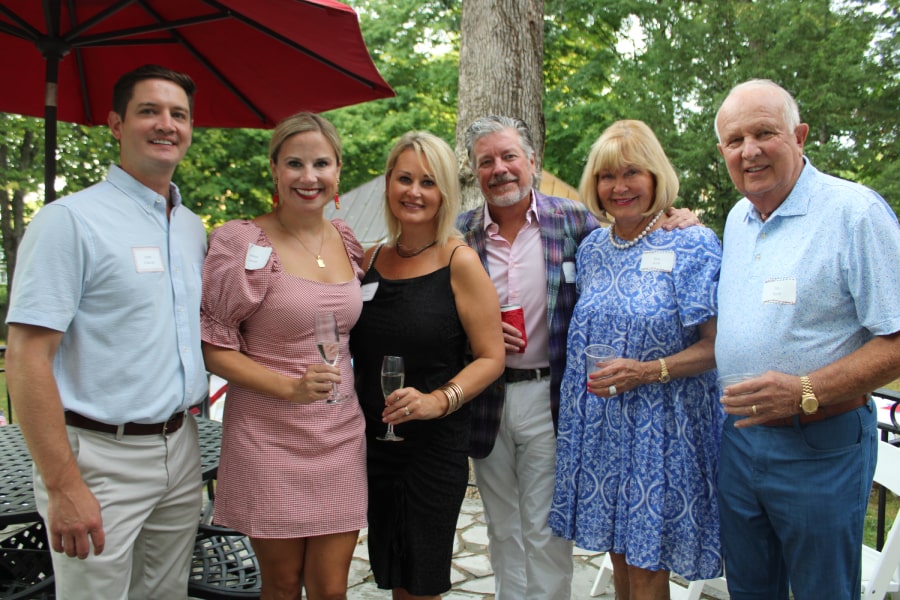 Join Elm Street Society (PDF)
Member List
Beethoven Circle: $50,000 or More Per Year
The Haskins Foundation — Carol (d.) & Denny Wedge
Gershwin Circle: $25,000-$49,999 Per Year
Jim & Darlene Johnson
Bud & Yezi Layne
Mozart Circle: $10,000-$24,999 Per Year
Robert & Pat Goodwin
Pat & Lora Patton
Jeff & Sherry Reed
Dan Renshaw & The Vickie Renshaw Foundation
Jim & Rita Scott
Jack & Kimberly Sheidler
Bach Circle: $5,000-$9,999 Per Year
Robert & Raeanne Allande
Tom & Sandy Boussard
David Chandler & Amy Hale Milliken
Tom Kerrick & Leslie Tutt
Lisa & Bill Leachman
Ben Matus
Robert Ramsey
Julie & Gary Ransdell
Mary Jane & Carlos Rotellar
Hank Wohltjen & Sharon Mutter
Bernstein Circle: $2,500-$4,999 Per Year
Arts for All Kentucky – Delaire Rowe
BMW/Mercedes of Bowling Green Jerry Cousin & Christina Walker
Gary & Gail Broady
Lynda & David Broderick
Robert & Doris Burr
Ken & Regina Byrd
Robin & David Ciochetty
Franklin Bank & Trust Co. – Corporate
Jimmie (d.) & Ann Gipson
Hospice of Southern Kentucky,
Steve & Kim Jantz – Corporate
Logan Aluminum – Corporate
Drs. Mohammed & Nisar Kazimuddin
Dr. Todd & Christy Marion
Morgantown Bank & Trust – Corporate
Newton Financial Group, LLC, Mike & Julie Newton
Dr. Chris & Marianne Patton
Mary & Kirk Pierce
Gary & Deane Ann Raley
Wells Richardson & Jane Bowlin
Andrew & Kara Robinson
Butch & Jolene Rush
Hilda Sanborn
Kathy Scariot
Shelton CPAs, LLP – Jerry & Kaye Shelton
Jay & Patsy Sloan
Ben Smith Life Compass Financial – Corporate
Tiffany & Gary Somerville
South Central Bank – Corporate
Glenna & Johnny Webb
Western Kentucky Heart & Lung
Steven & Mary Loyce Wheeler
Amira & Tahir Zukic
Brahms Circle: $1,000-$2,499 Per Year
Allstate-Charles Kirby  & Valorie Copas
Tommy & Julie Adams
Carla & Charles Allen
Jeff & Shelly Anderson
Joetta Arnett
Ruthie Bale
Jimmy Blankenship
Atmos Energy, Michael Close – Corporate
Ashley & Claude Badgett
Carlos & Shenica Bailey
Nancy Disher Baird
John & Sandra Baker
Sheldon & Faith Ballou
Barbara Stewart Interiors, Pete & Susan Hoechner
Bruce & Julie Barrick
Mitchell Berman
Donna Boden
Jason & Heather Boyd
Harold & Diane Brantley
Sharon & Eddie Brawner
Mike & Debbie Breen
Valerie Brown & Kenneth Kuehn
Deborah & Craig Browning
Debra Broz
Ellen & Mike Buchanon
Medicine Arts Pharmacy, Patricia & William Bucy
Karen Buege
Jim & Valerie Bullington
Alex Burrell
Greg Burrell
Telia Butler
Navada & Joe E. Campbell
Jessica & John Carver
Keith & Nancy Carwell
D.C. Clement: State Farm Insurance
  D.C. & Kita Clement
Ginger Cleary: State Farm Insurance
John & Sara Clifford
Tina Coates
Mary & Jerry Cohron
Ward (d.) & Jane (d.) Coleman
Gerri Combs
Community Foundation of South Central Kentucky
  Jennifer Wethington
Dr. Thad & Kay Connally
Thad & Pam Connally
Jim Coombs
Dr. Dana Cosby
Barbara (d.) & Michael Cowles
Dr. Caleb & Nicole Davis
Gerald Printing – Sharon & Joe Davis
Dr. Melissa Dennison
Amy Deputy
Thomas A. and Cynthia T. Donnelly
David & Meredith Doran
Larry Dotson
Alex & Kelly Downing
John E. Downing
Joy Beth & David Dunn
Dr. Robert & Amy Duvall
Tim & Mary Edelen
Nell Edwards
Buzz & Nancy English
Charles E. & Barbara K. English
Diane & Jack Estes
Heidi & John Estes
Kirk & Martina Fee
FHG Clothiers
Jeff Fields
John O. Fitts
Bart & Candee Flener
Jeff & Dede Foreman
Alice & Alvin Ford
Atha Ford
Mark & Missy Gary
Cecile Garmon
Tim & Pam Geegan
Gigi's Cupcakes, Will & Nicole Jones
Justin & Amy Gearlds
Vivian Gentry
Kathleen & Larry Gildersleeve
Gina & Brent Ginter
Annette & Jim Goff
Doug & Michelle Gorman
Diana Granese, MD
David Horace Greer
Richard Greer & Retta Poe
Sam & Sue C. Hall
Robert W. Hankins
Dr. J. Randall & Jane W. Hansbrough
Jeff & Betsy Harned
Tom Harned
Mark & Lindsey Harris
Ken Haycraft & Anne McKee
Lisa & Matthew Held
Jimmy & Paula Hendrick
Jan Hensley
Mandy Hicks
John & Erica Higgins
Kathy Higgins
Janet & Steve Hill
Melinda M. Hill
Bob & Laura Hilliard
Duncan & Barbara Hines
Greg & Kathy Hines
J.B. & Shaska Hines
Jay & Alison Holland
Jim Ed & Tracey Holland
Dion & Lois Ann Houchins
Brad & Susan Howard
Belle Lady Hunt
Debbie & Kevin Jackson
Shirley & Bill Jackson
Timothy R. Jaggers
Michael & Katherine Jennings
Adam & Katlyn Jones
John & Linda Kelly
Larry & Linda Kidwell
Kevin & Lynn Kirby
Quinetta & Craig Klutts
Patti Kuebler
Susan & Ray Lanham
Mike & Sarah Law
Rodger & Susan Lawson
David & Laura Harper Lee
Linda H. Lefevers
Tim & Linda Leigh
Drs. Harold & Cassandra Little
Bill & Janie Logsdon
Donna Miller Loid 
Mark & Lidija Loik
Denise Lubey
Del & Jean Lucas
Pete (d.) & Dixie Mahurin
Eva & Jim Martens
Wayne & Cathy Martin
Randy & Stephanie Matthews
Jeremy & Heather McWhorter
Joe McFarland
Tom & Sherry Melcher
Dr. Pat Mercer
Donna & Ken Meredith
Vince & Julie Milam
Judy & Currie Milliken
Chief Justice & Mrs. John D. Minton, Jr.
Mary Lloyd & Hamp Moore
Shelby G. Moore
Anne Murray Communications
Vera Murphee
Mickeye & Mike Murphy
Ron Murphy- The Downtown Redevelopment Authority
Sherry Murphy
Dr. & Mrs. W. Mark Myers
Joe & Cheri Natcher
JP & Jill Nixon
Susan & Tony Norman
Dr. Tom & Rene Nuckols
Dennis & Lynne O'Keefe
Alan W. & Cathy J. Palmer
Roger & Beverly Parrish
Steve & Jeanne Patton
Jean Peay
Donna & Gaines Penn
Tom & Portia Pennington
Dr. William & Ginny Pfohl
Faye and Dr. J.K. Phillips
Ann & Troy Puckett
Linda & Robert Pulsinelli
Nick & Mitchell Rabold
Anita & Freddy Rather
Tracey & Gary Reckart
Deborah Renshaw-Parker & Shawn Parker
Tony & Shelly Rhoades
Jody & Neva Richards
Jimmy & Kenwyn Riddle
Richard & Julia Roberts
Stephanie & Tommy Ross
Joyce M. Russell
Nadine Sterner- Farmers Bank & Trust
John Russell & Anna Taylor
Joyce M. Russell
Dr. Matthew & Natalie Rutter
Tony & Sheila Scott
Emily & Tom Sharp
Beth & Chris Sigler
Katherine W. Sikora
John & Jennifer Simms
Micki & Alan Simpson
Rebecca & Jamie Simpson
Tara & Lincoln Skaggs
Mark & Amy Smith
Dr. James Henry Snider
Dr. Alejandro Soriano
Dennis & Pippa Stewart
Jan & Buster Stewart
Drs. Scott Sims & Rosalie Padilla
Terry & Claudia Taft
Tarter Real Estate & Auction, David Tarter
Barbie Tatman
Doris & Roger Thomas
Linda B. Thomas
Alisha Thompson
Chris & Deborah Thorn
Brenda & Steve Thurmond
Becky & Ben Tomblinson
Tom & Ginger Tomlinson
Vince Tyra
Billy F. Van Pelt, II
Barry & Sherri Vincent
Don Vitale
Mary Vitale
Shannon & Mike Vitale
Suzanne Vitale
Christiaan & Anne Marie Volkert
Janet Miller Wade
Eric & Drue Walker
Dr. Richard T.C. Wan
Gayla & Robert Warner
Robyn & Jay Warren
Bonnie Washer
Brent & Regina Webb
Joe & Stacy Webb
Julie Wedge
Kyda West
Bart & Carol White
Kay White
Ashlee Wilson
Mike & Cammie Wilson
John Parker & Sue Wilson
Chris & Kelly Wiseman
David & Miki Wiseman
David & Leslie Witty
Darren & Melissa Woodruff
WOVO 106.3 FM / Commonwealth Broadcasting
Jeff & Ashley Young