Amanda Brooks HERstory: A Selection of Kentucky's Heroes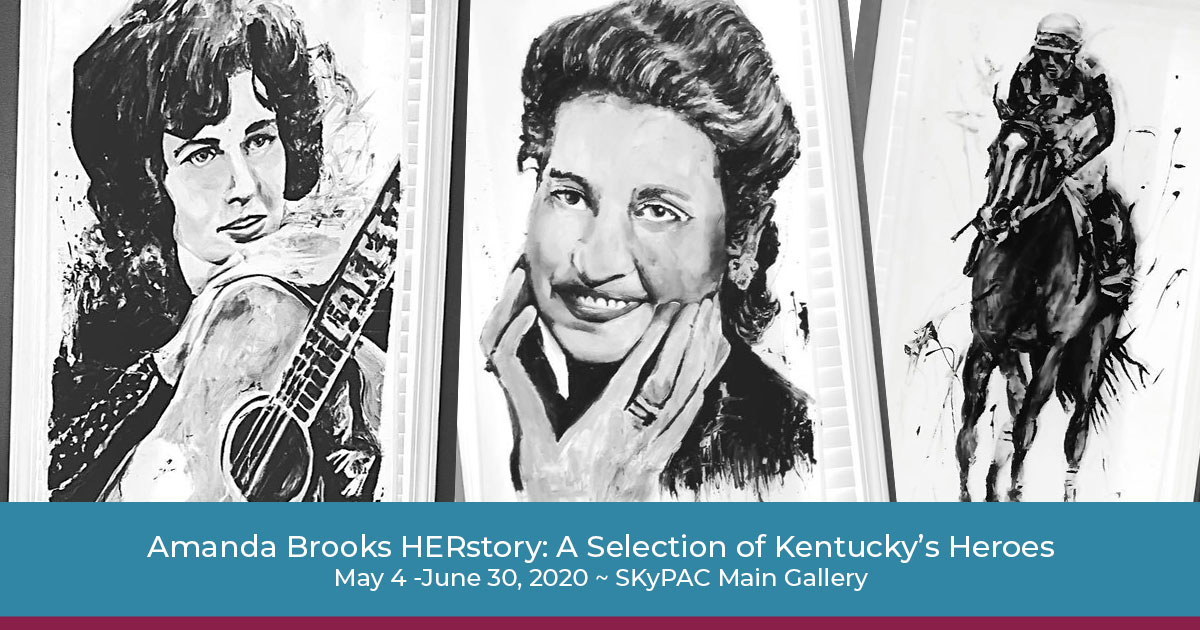 Amanda Brooks HERstory: A Selection of Kentucky's Heroes consists of several expressive, large paintings created during Covid19 quarantine on raw cotton curtains. Artist, educator, and activist Amanda Brooks resides in Somerset, Kentucky, a town she is busy transforming into a public art destination. Trust us, Amanda Brooks has her own story to tell through Kentucky women who have made a big impact on her and the world. Amanda's educator insight into social justice, storytelling, and truth through art and defined style make the portraits in HERstory meaningful and very memorable. Amanda focuses on women who have impacted Kentucky from the artist's own feminist perspective. Amanda Brooks' HERstory paintings with SKyPAC will be a virtual exhibition during the month of May and in the Main Gallery and open to groups by appointment during the month of June. This exhibit will promote positive change within the community through engagement activities, powerful imagery, and strong narratives.
Lillian Press
Born in Everett, Massachusetts, died in Washington D.C.
Known as the First Lady of KET, Lillian Press is a former public relations executive and newspaper reporter. She worked at WVLK before organizing the Kentucky Regional Mental Health Board and the Commonwealth's first Comprehensive Care Centers. She directed the Kentucky Governor's Scholars Program and chaired the National Conference of Governor's Schools. In 2002, she organized The Women's Network. Lillian Press died of COVID-19 in April 2020 and was recognized by Governor Andy Beshear.
Anna Mac Clarke
Born in Lawrenceburg, Ky, and died at 24 due to an infection after appendicitis surgery
Clarke successfully gained a position as an Officer and thus became the first black female to be in command of an all white company. To think that while doing this, Clarke was able to effectively fight for equality on more levels than one. She not only pushed the boundaries of the traditional military ideal that it's only for men, she did it as an African American woman in 1943! When Anna Mae Clarke first began her career she likely had no idea what kind of influence she would have or the figure that she would eventually become for women -as well as African Americans- in the fight for equality.
Mae Street Kid
Born in Everett, Massachusetts, died in Washington D.C.
Born in Millersburg Kentucky, died in Louisville Kentucky
Mae Street Kid was an American businesswoman, civic leader, and a skilled politician during a time when both her gender and her inter-racial background made such accomplishments more difficult than they would be today. She had a distinguished career in public relations, served in the Red Cross during World War II, and was a member of the Kentucky House of Representatives from 1968 to 1984, representing Louisville's 41st state legislative district.
She likened it to "living in a no-man's-land where I belonged to neither race. Because I was neither completely white nor completely black, I've been stigmatized and penalized by both races.
Rose "Rosie" Will Monroe
Born in Kentucky, died in New Albany, Indiana
An American Folk Figure. She was the original "Rosie the Riveter" -a Kentucky native who as a young widow, rearing two daughters, went to work building B-29 bombers at Ford's Willow Run Aircraft Factory in Michigan. Rose became the live personification of the already created fictional "Rosie the Riveter" poster girl and the Kay Kyser song "Rosie the Riveter". She was noticed by Walter Pidgeon during a bond drive to the Ypsilanti, Michigan plant and was asked to appear in a promotional film for purchasing war bonds.
Madeline McDowell Breckenridge
Born in Franklin County and died in Lexington Kentucky
Madeline (Madge) McDowell Breckinridge(May 20, 1872 – November 25, 1920) was an American leader of the women's suffrage movement in Kentucky. She married Desha Breckinridge, editor of the Lexington Herald, which advocated women's rights, and she lived to see the women of Kentucky vote for the first time in the presidential election of 1920. She also initiated progressive reforms for compulsory school attendance and child labor. She founded many civic organizations, notably the Kentucky Association for the Prevention and Treatment of Tuberculosis, an illness from which she had personally suffered. She led efforts to implement model schools for children and adults, parks and recreation facilities, and manual training programs.
Nancy Green
Born in Mount Sterling Kentucky and died in Chicago Illinois
Nancy Green was a storyteller, cook, activist, and the first of several African-American models hired to promote a corporate trademark as "Aunt Jemima".
The famous image of Aunt Jemima was based on the real image of Nancy Green, who was known as a magnificent cook, an attractive woman of outgoing nature and friendly personality, an original painting of which sold for $9,030 at MastroNet. The painting was rendered by A. B. Frost, who is now well known as one of the great illustrators of the Golden Age of American Illustration.
Green was one of the organizers of the Olivet Baptist Church. Her career allowed Green the financial freedom to become an activist and engage in antipoverty programs. She was one of the first African-American missionary workers. She used her stature as a spokesperson to become a leading advocate against poverty and in favor of equal rights for individuals in Chicago.
Georgia Davis Powers
Born in Springfield, KY, lived and died in Louisville
Georgia Davis Powers was an American politician who served for 21 years as a state senator in the Kentucky Senate. In 1967, she was the first person of color and the first woman elected to the senate. During her term, she was "regarded as the leading advocate for blacks, women, children, the poor, and the handicapped," and was the chair of the Health and Welfare committee from 1970-76 and the Labor and Industry committee from 1978-88
Laura Clay
Born in Richmond Kentucky and died in Lexington Kentucky
Laura Clay, co-founder and first president of the Kentucky Equal Rights Association, was a leader of the American women's suffrage movement. She was one of the most important suffragists in the South, favoring the states' rights approach to suffrage.
Loretta Lynn
Born in Butcher Hollow, Kentucky and currently lives in middle Tennessee.
Loretta Lynn is an American country music singer songwriter with multiple gold albums in a career spanning 60 years. She is famous for hits such as "You Ain't Woman Enough", "Don't Come Home A-Drinkin'", "One's on the Way", "Fist City" and "Coal Miner's Daughter" along with the 1980 biographical film of the same name.
Virginia Moore
Born in Louisville, KY
Moore is a CODA, child of deaf parents, and several deaf siblings, so she learned ASL before English. She grew up in Louisville, where her dad did paste up for the Courier-Journal. (That's a now obsolete practice.) She planned to be a criminologist at Michigan State, but after her dad was killed in a car wreck, she came home and fell into interpreting, then working at the Commission, and finally, running it.
Virginia has been with KCDHH since 1995, serving first as the Executive Director's Interpreter, then as State Interpreter Administrator before being appointed as Executive Director in 2009. Born into a socially active deaf family, she has been shaped by the culture and language. Virginia graduated from Indiana University with a Bachelor of Arts degree and holds several interpreter certifications, including National Association of the Deaf (NAD) Master Certification, Registry of Interpreters for the Deaf (RID) CI/CT Certification and a National Interpreter Certification (NIC).
In addition to her duties as Executive Director, Virginia also coordinates the biennial DeaFestival-Kentucky event, presented by KCDHH and the Knowledge Center on Deafness. Virginia has received much praise as Kentucky Governor Andy Beshear's ASL interpreter during the daily Covid19 updates.
Zenyatta
Zenyatta, born in Kentucky on April Fools Day, is a retired American champion Thoroughbred racehorse, winner of 19 consecutive races in a 20-race career. Owned by Jerry and Ann Moss, Zenyatta was trained by John Shirreffs and guided by jockey Mike Smith for 17 of 20 starts. David Flores rode Zenyatta in her first three starts. Zenyattta was named after Zenyatta Mondatta, the third album by The Police, who were signed to A&M Records by her owner Jerry Moss.
More about Amanda Brooks:
Amanda Brooks, a Somerset resident, is a first-grade teacher at Hopkins Elementary School and owner of Clay & Paper Studio. She graduated from Somerset High School in 2001. She remembers her formative years fondly for the art education it gave her and the opportunity to turn something she loves into a business venture. Yet, Amanda is quick to tell you she has always been an artist.
"We" — a term Amanda uses often, because she is a twin. Her sister, Amber, also paints and teaches and is a constant source of guidance and inspiration.
Amanda can't remember a time she didn't want to be an artist. Though the type of artist she wanted to be evolved through her early years, when she learned at age 21 she would soon be a mom, she put all of that on hold, instead earning a teaching degree so she could spend time with her son.
It wasn't on hold for long. When she accepted a position teaching art at Yates Elementary School in Lexington, she landed an opportunity to illustrate two books for an author who worked part-time at the school. That led to requests for portraits from school employees and parents.
"I think teaching art kind of helped me, it just inspired me to start back," she said.
Amanda Brooks and her children, from left, Jase, Haley and Clay.
She continued to expand her horizons after moving back to Somerset in 2011. As an art teacher
at Oak Hill Elementary, she responded to someone's suggestion that she should paint what impacted her.
Today, Amanda's expressive watercolors are some of her most well-known work. Watercolor is her favorite medium — "I like the bright colors, and I like how they mix. There's a limitless amount of things you can capture with watercolor," she says — but she is also often commissioned to do acrylic paintings or charcoal portraits.
Amanda applies feminism and philosophy to teaching. Amanda and her family welcome school-age students into their home for weekly summer art workshops, a private opportunity she began offering last year, because so many parents were looking for ways to enhance their children's art education.
"I had always wanted to go to Savannah College of Art and Design, and honestly, our family didn't have the money or the resources," Amanda said.
Amanda's dedication to giving to the arts and education embodies her goals of telling stories through her art and she understands how important sharing her story and the stories matter. Amanda's work is a mixture of modern and timeless elements "I just feel like, I don't know, it's like everything I am," she said. "When I'm painting and drawing, I'm free."
SKyPAC's Main Gallery is Sponsored by: