SKyPAC is proud to present a series honoring our area arts heritage. Each week we're highlighting different trailblazers and turning points that have ushered us to the modern day arts opportunities this region now enjoys. We hope you will join us in saying "Bravo!" for the countless lives touched through the arts as a result of the vision and dedication of those documented in the paragraphs that follow.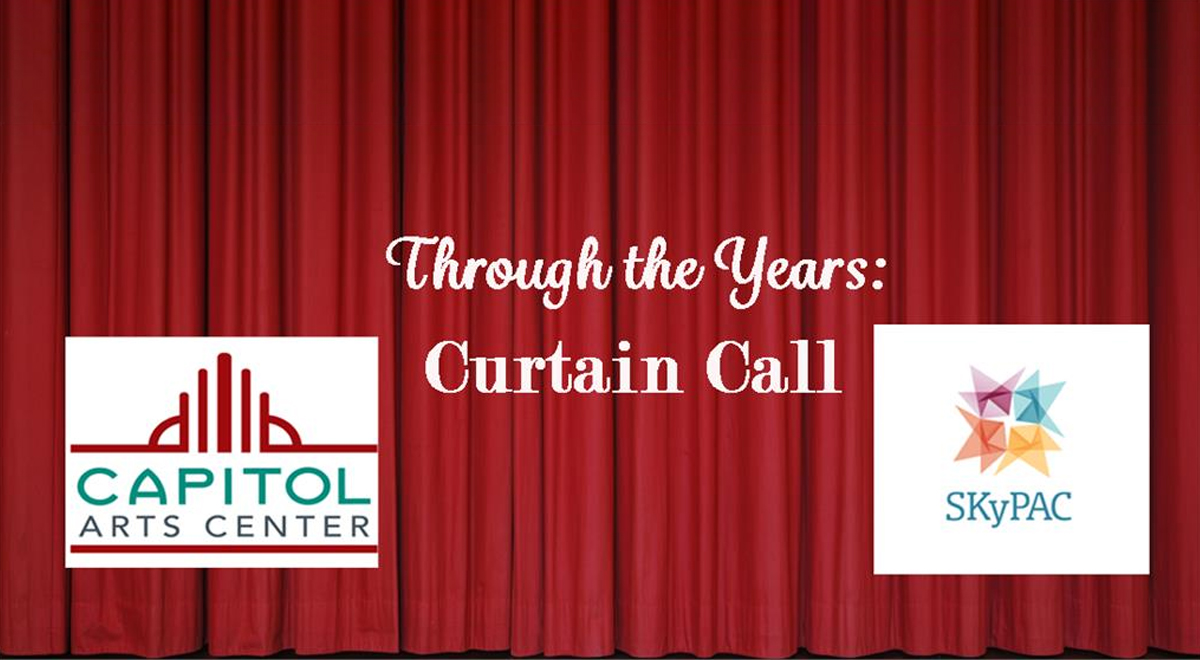 This week, we highlight the Capitol Arts Center's Seat Campaign from the 1980's. These names reflect many community arts advocates that played important roles in shaping the Capitol Arts Center. Please note the words appear as were on the nameplates of the seats and the era in which they were commissioned. We have made efforts to indicate those that have since passed away and apologize for any we might have unintentionally missed. Should you notice an error or a name you feel was left out, please let us know. At this time we are unable to confirm whether this is a complete list of seat donors.
A special thank you to former Capitol Arts Center Executive Director, Karen Hume, for sharing these important pieces of our arts history. Stay tuned next time next time as we continue our journey Through the Years: Curtain Call.
Alpha Beta of Beta Sigma Phi
Donated by American National Bank In memory of Dr. Ward Cullin Sumpter
Donated by American National Bank in Appreciation for Irene Moss Sumpter
Lucinda Francis Anderson
Loyce E. Bagwell
Gertrude E. Bale
Haz* and Mary Belle Ballance
Kim Barnes, Chris Barnes & Molly Mitchell
In Memory of Mabel Hunter Beaven
Dr. Richard M. Beaven
Mr. and Mrs. Billy J. Bell
James K.* & Sara M.* Bennett
B.G. Chemicals, Inc.
B.G. Vacuum Cleaner Co. Inc.
Compliments of Bowling Green Warren County Jaycee-ettes 1979-80
Bill Moore Insurance Agency
In Memory of Captain and Mrs. Thomas P. Boston
In Memory of Mel Browning
In Memory of Betty Browning
In Memory of Louis Buono
Dr. and Mrs. Joseph Cangemi
Michelle and Lisa Cangemi
LTC & Mrs. John B. Carr, Sr. USMC
Mr. and Mrs. H.B. Carroll
Dr. and Mrs. Charles Carter
Dr.* and Mrs.* J. Joe Cheek
The Citizens National Bank Bowling Green, KY(12)
Clark Distributing Company
Otis Vernon Clark
Bobby* and Judy* Cline, Western Realty Co.
Mr. and Mrs. John David Cole
In Memory of Anne Ford Collins
Community Greeters of Bowling Green 1982-83
Cook and Co., Joe Cook (2)
Mr. and Mrs. Joe Cook
Country Peddler, Inc.
In Memory of Joseph C. Covington
Dr. and Mrs. R. T. Crosby
Jack and Jerri Daniel, State Farm Ins. Co.
J. Boadley Davenport
Margaret D. Davenport
Bernard D. Davis, John C. Davis, Jr. and John C. Davis, Sr.
Mr.* and Mrs.* Howard Dawson
Paul Deemer*
Mrs. L. B. Deloteus
Leonard Deloteus
Brents Dickinson III Family
Dr. and Mrs. Carl W. Dobson, Jr.
In Memory of Andrew J. Donelson, Sr.
Dr. and Mrs. John E. Downing
In Memory of Arthur H. Durham
Mark and Joy Beth Eastin
Epsilon Simga Alpha ESA Alpha Theta No. 662
Martha Alice Evans, Mrs. Evan C. Evans
Dr. * and Mrs. V. L. Fisher, Jr.
John Orus Fitts
Margaret Adams Fitts
Nelson Orus Fitts
Donated by Friends(2)
Garrett Insurance Agency
Mr.* and Mrs.* John Garrett(2)
Louise T. Gentry
Lewis T. Gentry
In Memory of Mrs. Wood Goff Mother of Liz Steen
R.D. Bob Graham
In Memory of Muriel H. Grandison
Mr. and Mrs. John D. Grider
Joann Hall
Heather and Scott Hall
Hartig and Binzel Bowling Green's Leading Jewelers Est. 1919
Ron and Elsie Hatcher
Wayman and Edna Hayes
Donated by Margie Helm
Dr. J. B. Helm, Virginia Beck Helm& David M. Helm
The Jackson Hester Family
Duncan Hines
Mr. and Mrs. John P. Hines
Phillip Huddleston*
Mrs. Chester Hock*
In Memory of Grover C. Holderfield Husband-Father-Businessman Educator & Friend
Mr. and Mrs.* John B. Holland (3)
Mr. and Mrs. James Henry Holland
O. Reid Hoskins
In Memory of Bobbie Houchens Community Greeters
In Memory of Millie Howard
Mr.* and Mrs.* John B. Jacobsen
Miss Elizabeth Amy Johnston
Dexter* and Harvey Johnston
Miss Margaret Nell Johnston
Mr. and Mrs. Robert H. Johnston
Mr.* and Mrs.* Carl N. Kelley (2)
Dr. and Mrs. William Kernohan
In Memory of R.M. Kyle
Lou Lazarus Kay, Amy & Mary Jo
Mitchell Leichardt
Judge and Mrs. Tom Lewis
Norman and Bettie Lewis
Mr. and Mrs. Larry Lowe
Dixie and Peter Mahurin
MALCHOW
Dr. and Mrs.* Jerry Martin
Mr. and Mrs.* Joe McFarland, Sr. (2)
Mr.* and Mrs.* Harold B. McGuffey
Mrs. Scott McLean
Billy Joe & Carol Mitchell
Donated by Dr. E. G. Monroe*
Neal Turner Development
Mr. and Mrs. Lorne Nedvidek
Regina C. Newell BG-WC Arts Commission
James Norris and Joseph Sydney Johnson
Jo T. Orendorf* Mrs. Jo T. Orendorf*
Dr. and Mrs. Marcus Patton
Clyde G. Payne
Pen and Paper, Inc. Suzanne H. Fitch
L. B. Powell dedicated by B.G. Kiwanis Club
In Memory of Earl D. Rabold
Alice Rockhold BG-WC Arts Commission
Claude Rose Dedicated by B. G. Kiwanis
Margaret* and Ray* Saxton
John C. Schiebel
The Neal Seiglers
Laura Shelton
Leta and Lewis Shelton
Lucy Byars Smith
Robert S. Smith
Southern KY Bar Auxiliary
David and Christine Sowders
Spot Cash Store Inc.
In Memory of Elizabeth Goff Steen by Her Friends
In Memory of Elizabeth Goff Steen by Mr. and Mrs. John P. Hines
Sara* and Owen* Sutherland
Mr. and Mrs. Steve Swigonski in Memory of Dora Lowry
Mr. and Mrs.* Joe Taylor
In Memory of Effie Thatcher Community Greeters
W.G. and Mabel Thomas
Hugh and Jean H. Thomason
Sara Tyler
Edie and Terry Tyler
WBGN Radio 1340 AM CBS
Herschel Webb
In Memory of Robert E. Weber
Mr. and Mrs.* Denny Wedge, Paul, Julie & David*
The Michael K. Wheeley Family Mike, Suzanne, Allison and Adam
Mr.* and Mrs.* Ray B. White
Ryan Wiesemann
Regan Wiesemann
Lucy Ann Willock
Robert Douglas Willock, II
The Woman's Club of Smiths Grove KY
Carol Yowell
*deceased
WE WELCOME YOUR INPUT: This series is a work in progress based on your feedback and remembrances. If you were involved in area arts efforts and have photos, programs, or other information related to the Capitol Arts Center or SKyPAC, please contact Rob Hankins at 270.904.5004 or email rhankins@theskypac.com.