The 2017-2018 SKyPAC Season Announced!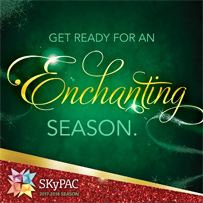 SKyPAC's Executive Director, Rick McCue, announced the 2017-2018 season line-up from the stage just before the curtain rose for last night's Broadway performance of MAMMA MIA! "We are proud to bring you a great line-up of productions we know everyone is sure to enjoy this coming season," McCue stated.
SKyPAC's 2017-2018 season is packed with memorable productions from Broadway favorites like RODGERS + HAMMERSTEIN'S CINDERELLA and THE SOUND OF MUSIC to iconic American comedian Vicki Lawrence, Alton Brown, and A Charlie Brown Christmas LIVE!  A total of eight (8) performances make up the new season with the Director's series performances which include the four (4) Broadway series performances. Subscribers will have the opportunity to add in advance any or all of the additional three (3) Add-on performances.
2017-2018 SKyPAC Season Packages are as follows:
Director's Series

Vicki Lawrence and Mama: A Two Woman Show
A Charlie Brown Christmas
RENT: 20th Anniversary Tour
Shadowland by Pilobolus
Dirty Dancing
The Sound of Music
The Wizard of Oz
Rodgers + Hammerstein's Cinderella
Broadway Series
Dirty Dancing
The Sound of Music
The Wizard of Oz
Rodgers + Hammerstein's Cinderella
Add-On Performances

Alton Brown Live: Eat Your Science
Moscow Ballet's Great Russian Nutcracker
Howie Mandel
Subscription Information
Subscription renewals will be mailed out starting Monday, May 15, 2017 to current subscribers.  New subscriptions will go on-sale starting Monday, June 12th. For additional information on becoming a season subscriber or for performance dates and times please visit www.TheSKyPAC.com or call the SKyPAC Ticket office at 270-904-1880