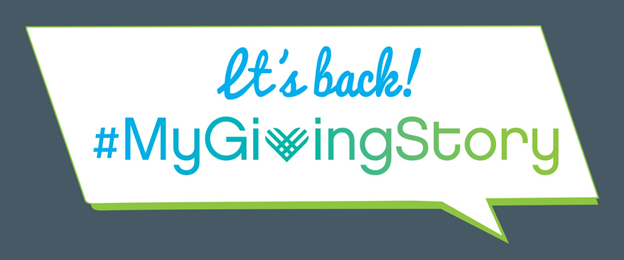 Your Giving Story could help raise funds for SKyPAC!
What inspires you to give? Tell the story of a time you supported SKyPAC in a way that was meaningful to you. Details of the Contest and a link to enter are below.
#MyGivingStory is Back!
We are excited to share that #MyGivingStory is back for a second year to help you share why you support nonprofits this #GivingTuesday and beyond.  #MyGivingStory is a nationwide campaign and social media storytelling contest that will foster a public discussion about the reasons people give. Working in collaboration with the Bill & Melinda Gates Foundation and Facebook, we are asking "everyday givers" to reflect upon why they give to a certain nonprofit organization and then share these personal stories on social media. The winners' featured nonprofit organizations will receive $2,500-10,000 grants!
How will the #MyGivingStory contest work?
The call for submissions is open now through December 31, 2016! Individuals can post short essays (150 word minimum) on the #MyGivingStory tab of #GivingTuesday's Facebook page responding to this prompt:
People give for a multitude of reasons. 
"I'm grateful to the hospital that treated my mom."

"I care about the climate and volunteer to help save planet." 

"I read about a humanitarian group that leverages small donations to make a huge impact." 
What inspires you to give? Tell the story of a time you supported a nonprofit organization in a way that was meaningful to you. Include which organization you gave to and why.
The essays need to be specific to one organization and link to that nonprofit's website. Submissions will be open until December 31st, 2016 at 5pm ET.  The top 20 essays as "liked" by Facebook readers will be sent to a distinguished panel of judges for final adjudication so participants are encouraged to share and promote their submissions on social media outlets. Judges (coming soon!) will pick six winners. Two additional honorable mentions for "Best Use of Original Video" and the top two submissions in Spanish will be awarded.
Winners receive $2,500 – $10,000 grants!
The winners' associated nonprofit organizations will receive grants for $2,500-10,000. Winners will be announced in mid-January, 2017.  
Tools to help you tell a winning story
We want to help you collect winning stories, and have created this toolkit to inform your network about this contest.  Feel free to use our logo and materials to spread the word!
Why is it important?
Much of U.S. based philanthropy, particularly smaller donations made by "everyday givers," occurs outside the public spotlight. Movements like #GivingTuesday call these donors to action, and collectivize their potential to make the world a better place through charitable contributions. #MyGivingStory will recognize the important contributions of "everyday givers" by featuring their stories and voices and the causes that move them to give. This will create a public discussion about giving, contribute to the creation of a social norm for "everyday givers," and potentially test the hypothesis that giving stories can help catalyze increased giving by creating more "everyday givers" over time.
We can't wait to hear your stories!  Click here to submit and start sharing!