The Southern Kentucky Performing Arts Center would like to congratulate Ellan Luna for receiving an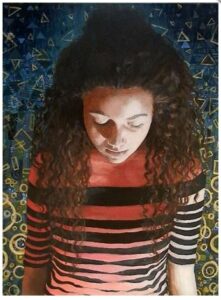 American Visions Medal on the National level in this year's Scholastic Art & Writing Awards for her painting entitled "Changes." Ellan is a senior at Bowling Green High School and a student in Mr. W.T. Stinson's art class.
Ellan's work, along with that of her fellow National Medalists, will be honored during a special awards ceremony at the world-famous Carnegie Hall in New York City this June. All National recipients are eligible for a wealth of additional opportunities such as inclusion in the Art.Write.Now.Tour traveling exhibition and The Best Teen Writing anthology.
Overview from the National Office
This year the Scholastic Art & Writing Awards received nearly 320,000 submissions and less than 1% of those submissions received National Medals. We were impressed with all of the students who participated in the Scholastic Awards this year!
Students who didn't receive a National Medal should be very proud, and are encouraged to continue submitting to the Scholastic Awards in the future. Thanks to all for having the courage to submit.
The 2017 season of the Scholastic Awards opens on Wednesday, September 14, 2016!