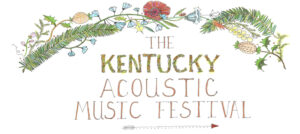 The Kentucky Acoustic Music Festival – April 9th at 7:00 PM 
Benefiting the Capitol Arts Center
Like many long time Bowling Green residents I can remember going to the Capitol Arts Center for some sort of performance: a dance recital, a high school musical, a Red Stocking Revue, a Fountain Square Players production, a Kid's on Stage performance, the Rocky Horror Picture Show, a fundraiser with Ray Charles or rockin out with Government Mule.  The Capitol has been a part of our history and central to the downtown Bowling Green culture and scene for a lot longer than I have been around. The Capitol's doors were closed in 1967 after showing movies for over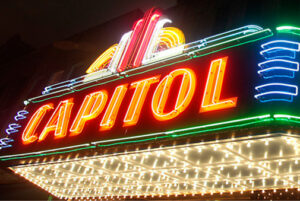 three decades and building sat vacant for over 10 years. The Capitol Arts Center reopened in September of 1981 with the support of many "preservation minded" folks from our community. Unlike many small-town cinemas which have been rebuilt as community arts centers, the Capitol was able to make the transition and retain almost its entire original configuration. Auditorium space did not need to be stolen to expand the stage or create a lobby. Additional square footage was obtained for offices and art galleries by opening into the former retail spaces on either side of the lobby.
The Kentucky Acoustic Music Festival (KAMF) will be held at the Capitol Arts Center on April 9th, 2016 and will be an opportunity to support efforts to "keep the Capitol vital".  Just as when it was re-opened in 1981 funds continue to be needed to renovate, replace and recondition that fine old building at 416 East Main Street. KAMP's title sponsor is WKYU-PBS television who has been a local source of support through the new Lost River Sessions program. WKYU will be onsite at the Festival filming and plan to produce a show that will air later in the year on our PBS station.
Showcasing another new downtown favorite, KAMF will host a "Meet and Greet" at Corsairs Artisan Distillery prior to the start of the Festival at 7pm. VIP Ticket ($25-Limited to 150) includes a concert ticket, Meet & Greet from 5:30PM – 6:30pm and includes food from the Mellow Mushroom and refreshments provided through support from JB Distributors.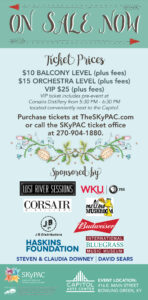 KAMF kicks off with the Mt. Victor Revue which consists of Ernie Small on mandolin and vocals, Chris Durbin on banjo and vocals, Eddie Mills on electric and upright-acoustic bass, Joel Whittinghill on fiddle, Bob Zoellner on accordion and melodica, and Bruce Kessler on guitar and vocals.  There is no way to put the Revue into any genre:  they play covers from artists like Elton John and the Black Keys, and original songs from the various band members, all with a bluegrass slant.
After the Revue comes the "old time" sound of the Pennyrilers. The Pennyrilers are an "Old Americana Grass" band from BG KY, Started up by Leslie Meng and R.A. Bridges in 2012. They play roots based music with an emphasis on original songwriting and hard driving old time fiddle tunes.
The Alley Cats are up next, a Bowling Green based band that performs a wide range of acoustic music including jazz, swing, bluegrass, pop, Celtic, old-time and original. Members are: Joel Whittinghill (fiddle), Jimmy Raley (guitar and vocals), Patrick O'Rourke (bass and vocals) and David Roemer (mandolin and vocals).
Finishing up the night will be TDH4 hailing from Lexington. THD4 features Karen Jones on fiddle, Bev Futrell on guitar, George Neel on mandolin, and Rick Baldwin on bass.  Karen and Bev, also members of the Reel World String Band, teamed up with longtime friend George Neel, an accomplished jazz musician, some 15 years ago. The extraordinary bass work of Rick Baldwin (of Metropolitan Blues All Stars) was added just prior to the band's first recording Dust Devils on Our Heels, released in 2013. The country inspired songwriting of Bev Futrell gives this ensemble its grounding and its expression of place, while the musical prowess of Karen and George connects us to the rich repertoire of folk and acoustic jazz standards.
Come and join an effort to keep the Capitol Arts Center a vital entertainment venue in downtown Bowling Green. All ticket sales will go to support purchasing new running light for the aisles.
Special thanks to our sponsors: WKYU-PBS, Haskins Foundation, JB Distributors, Corsairs Distillery, Mellow Mushroom, International Bluegrass Music Museum, Claudia and Steven Downy and David Sears. With very special thanks to Cynthia Schott for her artwork on the KAMF poster.
Tickets for The Kentucky Acoustic Music Festival for April 9th at 7:00 PM at the Capitol Arts Center can be purchased online at www.TheSKyPAC.com, by phone at 270-904-1880 or at the SKyPAC box office located at 601 College Street in Bowling Green, Kentucky.
About the Author, Ernie Small – Local musician who has spent most of his life entertaining folks in the Bowling Green area with his Blues Band and now with the Mt Victor Revue.