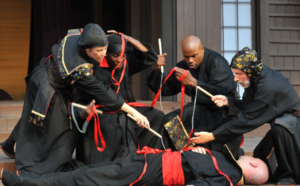 The school year is winding to a close across south central Kentucky, and SKyPAC is closing out another impactful year of integrating arts into classrooms across the region.  Artist residencies with more than a dozen schools, compensated space grants for four schools, visual arts exhibits in the Wedge Children's Gallery, and five School Day Matinees combined to generate more than 15,000 arts experiences for children and youth.
A special thank you to Graves-Gilbert Clinic for their support of School Day Matinees!  Through this partnership, SKyPAC was able to present The Legend of Sleepy Hollow, A Christmas Carol, The Spirit of Harriet Tubman, The Red Badge of Courage and Julius Caesar to assist educators in bringing to life various subjects and topics.
Planning is already underway for an exciting and educational 2017-18.  Stay engaged as we continue the growth of these important educational programs!
Thank you Graves-Gilbert Clinic (click here)