To Our Valued Patrons:
This month SKyPAC launched our 2020-2021 annual fundraising drive. Our theme is "CAST YOURSELF IN A ROLE OF A LIFETIME." Given the extremely challenging conditions this pandemic has thrust upon the arts industry, the slogan seemed appropriate for this critically important opportunity to sustain the arts for this region.
As our annual fund begins, SKyPAC and the Capitol Arts Center have lost 54% of our yearly revenue from shows and rentals due to COVID-19. Similarly, show sponsorships, season subscriptions, facility rentals, and other sources of revenue we ordinarily rely on have been diminished almost entirely in the wake of our facilities being closed since mid-March because of the worldwide pandemic.
Unfortunately that means no Broadway favorites like Mamma Mia! or concerts like the Avett Brothers. It prevents rentals of our facilities for weddings or Chamber After Hours events or the chance to discover rising stars at SOKY's Got Talent and Lost River Sessions. It also impacts the roughly 13,000 children from 14 counties who will not soon likely have a chance to see a BG OnStage production, a school day matinee or view our galleries. Despite these postponements, we are working to ensure beloved traditions like children creating gingerbread houses as part of our annual Gingerbread Homes for the Arts Festival still happens this November.
At this time, more than ever, we hope you will consider making an annual gift or perhaps a five-year charitable pledge to SKyPAC and the Capitol Arts Center. Monthly credit card contributions can also be arranged. The giving levels are from $100 – $10,000 and up and are all tax-deductible.
For 2020, please consider a gift of $2,500 – $1,000 to NAME A SEAT in SKyPAC with an engraved nameplate. Below is information detailing this limited opportunity to leave a lasting mark with a seat(s) inside our renowned Main Hall. These seats are a great way to honor a special person, business, organization, or occasion and can be paid for over time.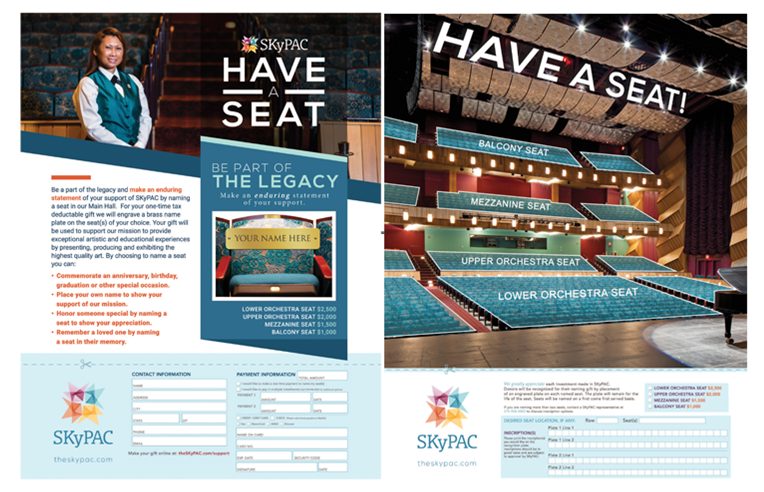 Why give now? So we can have a theatre full of your favorite Broadway shows and musical concerts booked when conditions improve. It takes advance dollars to schedule shows and guarantee school day performances for our children as well as cover all of the operating expenses associated with an arts center during a time when no revenue can be generated.
Amidst one of the most defining challenges of modern history, SKyPAC and Capitol Arts Center's Board of Directors thank you in advance for stepping up to the stage to CAST YOURSELF IN A ROLE OF A LIFETIME. If you have any questions or would like to make a donation, please contact Rob Hankins, Vice President & Chief of External Affairs, at (270) 904-5004 or rhankins@theskypac.com or donate online at: https://my.theskypac.com/dev/contribute.aspx
Mailing Address:
SKyPAC Annual Fund
PO Box 748
Bowling Green, KY 42102