Best-selling and most-awarded female gospel artist of all time, CeCe Winans, adds the Southern Kentucky Performing Arts Center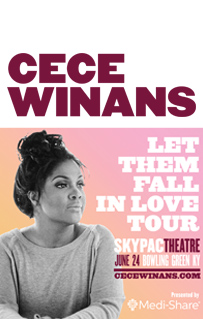 (SKyPAC) to her "Let Them Fall In Love Tour." Winans is set to perform at SKyPAC on Saturday, June 24, 2017 at 7:30 PM. Tickets will go on sale on Friday, March 31st at 10:00 AM (CST).
CeCe Winans has long since cemented her status as one of the most accomplished and celebrated women in modern music history. It'd be easy to look back and rest on such illustrious laurels, but Winans has always had her eyes fixed firmly on the future, so it should come as little surprise that she jumped at the opportunity when her son, Alvin Love III, proposed she record the generation-bridging new album 'Let Them Fall In Love.' Her first in nearly a decade, the record finds Winans returning to the studio with gusto, working for roughly three years to craft her most confident, adventurous collection yet.
Recording and performing as both a solo artist and as a duo with her brother BeBe, CeCe has influenced a generation of gospel and secular vocalists over the course of her astonishing career. Her mantel today holds a staggering 10 GRAMMY Awards, 20 Dove Awards, and 7 Stellar Awards. She's been inducted into the Gospel Music Hall of Fame, the Hollywood Walk of Fame, and the Nashville Music City Walk of Fame, in addition to being named a Trailblazer of Soul by BMI and garnering multiple NAACP Image Awards, Soul Train Awards, Essence Awards, and more. She's sold in excess of 5 million albums in the US, topping the Gospel charts repeatedly while crossing over with smashes like "Count On Me," her stunning duet with Whitney Houston from the multi-platinum 'Waiting To Exhale' soundtrack, which sold 2 million copies and cracked the Top 10 on the Pop, R&B, and Adult Contemporary charts. She touched millions more with inspirational performances everywhere from Oprah to The White House, and even showed off her acting chops on television series like '7th Heaven' and 'Doc.'
While collaborating with family is nothing new for Winans, the recording sessions for 'Let Them Fall In Love" found the Detroit native working for the very first time with her son in the producer's chair.
"Alvin shared with me a vision that he had of a record that was bold and a little different than anything I'd ever done before," remembers Winans. "When I heard the songs he'd been writing, I got so excited. He has great ears and great style and a unique way of writing and thinking things through. It made it extra special that two generations of family were able to come together on this record."
Bringing together generations is Winans' specialty, and she drew inspiration for the album from her extensive work with the young men and women who attend the church she and her husband founded in Nashville. http://www.cecewinans.com/
TICKET INFORMATION
Individual tickets for this performance will go on sale Friday, March 31, 2017 at 10:00 AM (CST). The Pre-sale for SKyPAC members and current subscribers will begin today, Monday, March 27, 2016 at 10:00 AM (CST). For more information on how to become a SKyPAC member for pre-sale opportunities and other member benefits, call 270-904-5002. For SKyPAC additional information and events visit TheSKyPAC.com or call the SKyPAC ticket office at 270-904-1880.