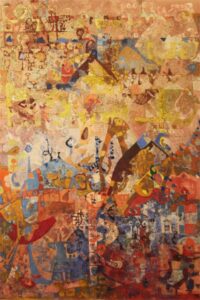 The Art of Internationally Renowned Artist Joe Downing Opens Next Week!
Exhibition Dates:
January 16 – March 29, 2018
How does it happen that a Horse Cave boy hangs a painting in the Louvre? Is it fate, determination, destiny or hope that causes the colors from shafts of light in the caves to find their way to 200-year-old barn doors?
Born in Tompkinsville, Ky. on November 15, 1925, Joe Downing was one of eight children born to Aldridge Clifton and Katie Burton Goodman Downing. He grew up in Horse Cave, where he attended elementary and high school, graduating in 1943 as valedictorian of his class. Downing spent his youth observing and exploring the caves and l andscape around him, unknowingly laying the groundwork for his amazingly creative works of art. Downing's work has long been known for his unique combination of media and technique, demonstrating a dedication to his personal artistic vision which he proudly acknowledged was rooted in his Kentucky home place.
"Time and again, on canvas and tile, wood and leather, paper and linen; Downing rejoices in the very act of seeing: the visual possession and transformation of life. In the end, what strikes one most in this long song of praise to sight is its gathering freshness. Innocence, curiosity and desire haunt the paintings as they did Downing's mind as he daydreamed in the grottoes of Horse Cave. The source has widened but never grown tainted. This is the world of a man whom the dreams of childhood have never failed." —excerpt from The Achievement of Joe Downing by Michael Peppiatt | Art International | Volume XXVI/4 September-October 1983
Join us for a reception in the SKyPAC Main Gallery on Friday, February 16, 2018 from 5:00 p.m. – 8:00 p.m. (CT)