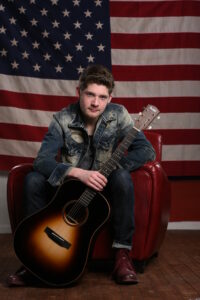 Bowling Green's native and singer/songwriter, Johnnie Mikel, will open for the Charlie Daniels Band on November 22nd at SKyPAC. Known for playing his signature Bedell guitars, Mikel performs between Bowling Green, KY and Nashville, TN honing his craft between performers' nights and songwriter rounds. Johnnie Mikel's first original single, "The Bee's Knees" was released in October 2014.
Johnnie is a member of Tennessee Songwriters Association International (TSAI) and Nashville Songwriters Association International (NSAI). It is through the process of playing writers rounds and shows around Nashville that Johnnie met many of his professional contacts, including Mike Puwal (Mike P), who produced his debut EP which is set to release in November 2015.
His debut EP, which contains 7 of Johnnie's original songs was recorded in Nashville with some of the finest musicians in Nashville. Mike Puwal, award winning, chart topping producer, worked closely with Johnnie during the entire process. The EP was produced, engineered, and mixed by Mike Puwal (Mike P) at Studio 515. Along with Mike P on guitars, other musical talent on the EP includes Jimmy Nichols on keyboard, Carl Miner on lead guitar, mandolin, banjo, acoustic guitar, Tim Grogan on drums, Spady Brannan on bass, and Lucas Larry as assistant sound engineer.
"Knowing my first professional performance is in my hometown, in front of all my friends and family, and that I'm opening for Charlie Daniels is mind-blowing," says Johnnie. "I've loved Charlie's music for as long as I can remember. That night is going to be surreal for me to say the least."
Facebook.com/johnniemikel
Twitter username: @johnniemikel
Instagram username: @johnniemikel
TICKET INFORMATION
Tickets are on sale now for Charlie Daniels Band November 22nd at 7:30 PM. Purchase online at TheSKyPAC.com, by phone at 270.904.1880 or at the ticket office located at 601 College Street, Bowling Green.