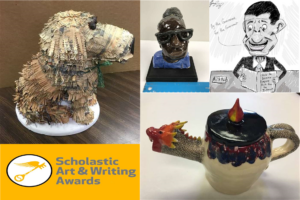 The Scholastic Art & Writing Awards have an impressive legacy dating back to 1923, when Scholastic Founder, Robbie Robinson, started the program as a way to honor the creative achievement of high school students. Some things have changed with the Awards over the years—new categories like Comic Art and Video Game Design—but a few things have not.
First is freedom of expression! The Scholastic Awards places no limitations on content; students are free to pursue any idea or topic in their art and writing. Blind adjudication has also been a core tenet of the awards since day one. Work is evaluated on its own merits, with jurors having no information on the identity of the young artist or writer, and lastly, the three criteria used to select work:
Originality; Technical Skill; and the Emergence of a Personal Voice or Vision.
The Scholastic Awards place a high priority on work that challenges boundaries and can communicate new and interesting ideas. A noteworthy roster of artists and writers earned Scholastic Awards as teenagers including: Andy Warhol, Sylvia Plath, Truman Capote, Lena Dunham, Robert Redford, Joyce Carol Oates, Lena Dunham and many more.
SKyPAC serves as the South Central Kentucky affiliate for the Scholastic Art & Writing Awards.
2018 Guest Curator
Andee Rudloff-Artist, Educator, Consultant chicNhair.com
2018 Jurors
David Marquez-Western Kentucky University, Sculptor
Cutivetti Dye- Teaching Artist for VSA Ky and Ceramics Instructor for Pots Place Co-op Gallery and Studio
Bac Totrong-Photojournalist at the Bowling Green Daily News
Leslie Nichols, Nichols Studio, Artist
Dr.Julie Ellis, Western Kentucky University, Engineer
Susan Feathers, Writer and nonprofit consultant and former public school teacher
Chuck Beard, Author
Here are some of the juror comments:
JUROR 1: First I would like to thank Andee Rudloff and SKyPAC for allowing me the opportunity to juror the 2018 Scholastic Art & Writing Awards for the South Central Kentucky Region. There were many exceptional artistic examples of the talent that persists in South Central Kentucky. The individual contributions and support by their teachers provided a large number of entries, which demonstrates the importance, vitality, and strength of arts in the hearts of my fellow Kentuckians.
We, the jurying committee, spent hours viewing, contemplating, discussing and selecting works towards Honorable mentions to Silver and Gold Keys. We absolutely enjoyed exploring the voices and talents of the next generation of artist. Seeing the range of investigations and successes of so many leaves me with little doubt that the expanding voice of artists and writers can bring about reputable change to our culture. I optimistically look forward to seeing the artist and works proceed to the next levels of national recognition.
JUROR 2: It was a privilege to help jury the Scholastic Awards. Works I believe to be exceptional stood out because of the time and thought artists put into their pieces, which show great originality, technical skill, and personal voice. Artworks recognized with Gold Keys are strong in all three areas and ranked best in their category. Some of these works use visual language and materials to elevate ordinary subject matter such as flowers. Others grapple with social issues of our time or create imaginative works filled with symbols. I was impressed by those ambitious seniors who submitted portfolios of unified bodies of work with creativity, a personal vision, and exceptional command of the chosen medium. Congratulations to all artists who submitted visual art to the 2018 Scholastic Awards!
JUROR 3: The artworks awarded today exhibited strong personal voice, sound technical skills and exceptional creativity. Although it was difficult to decide our winners due to the excellent talent we had entered into the competition this year. I had a wonderful time participating in this process.
JUROR 4: The creativity and works we reviewed were impressive in their skill level, range of content, and unique artistic visions.
The overall quality of all the students' work was wonderful, which made it so difficult to choose winners.
I thoroughly enjoyed being part of this process.
JUROR 5: My experience serving as Juror for Scholastic Arts and Writing Competition was one of honor and also great concern that I represent the creative work of youth writers as objectively as I can. As a writer myself, I appreciate the stages of writing in the submitted works, the earnestness of each one. If I can add light to anyone's writing path, I'll begin to return the mentoring I have received along my writing path. The work of creating, especially writing, is a solitary endeavor. Nothing helps the budding soul of an artist more than encouragement.
Thanks for including me in this wonderful endeavor. I am very pleased to see talent emerging among the youth of our region.
Educators of the Award recipients
Farrah Belhasen-Ohio County High School
Tara Maikranz- Ohio County High School
Katrina Bray Bullington-Ohio County Middle School
Catron Burdette-Butler County High School
Missi Carini-Warren East Middle School
Cayce Davenport-Adair County High School
Marla England-Barren County Middle School
Kandice Kilcoyne-Drakes Creek Middle School
Kim Soule-Greenwood High School
Crystal Cale-Greenwood High School
William (WT) Stinson-Bowling Green High School
Kim White-Muhlenburg County High School West
Amber Midkiff- Muhlenburg County High School East
Cheryl Kirby-Stokes-Gatton Academy of Math & Science
Derick Strode-Gatton Academy of Math & Science
Tammy Rastoder – South Warren High School
We want thank the individuals who instructed, mentored, encouraged, and perhaps even nudged or required students to submit their artwork to this year's Scholastic Art & Writing Awards. Educators please know that not only do your students rely on you, but we do, too. Thank you!
2018 Award recipients
Ally Adams
Grace Alexieff
Rija Arshad
Willow Baize
Darby Barnett
Ellie Belcher
Eryn Bell
Daniel Blacklock
Makenna Brown
Janice Chanchavac-Boyd
Kayla Chinn
Olivia Cline
Lancelot Cole
Bailey Cross
Kelcie Doolin
JoLyn Dorris
Samantha Durall
Sierra Earnhart
Katy Fender
Maya Ganesh
Sarah Hayse
Noah Hernandez
Taylor Jones
Ethan Justice
Alexander Lawrence
Kamryn Lin
Gabriela Maldonado
Zachary McCoy
Lauren McGough
Rebecca Miller
Ku mo
Olivia Moore
Kayla Newcom
Skylar Owen
Cassi Payne
Haley Penrod
Kaitlyn Phipps
Jonathan Powell
Daniel Rascon
Jewel Render
Presley Reneau
Peyton Rhoades
Bre Richardson
Michael Riley
Halle Rudloff
Manzar Rzayeva
Lynda Scannell
Nate Schnadinger
Laila Sells
Emma Simpson
Gabrialle Simpson
Amber Taylor
Hanna Thorp
Brian Tichenor
Samantha Tierney
Jenna Vincent
Sarah Walkup
Nathan Whittaker
Kaitlyn Wood
Kelsey Wood
James Yeckering
Layla Zech
Sierra Earnhart
Jack Spencer Gentry
Jacob Harris
Kayla Newcom
Deeya Patel
Nikitha Rajendran
Manzar Rzayeva
Gabrialle Simpson
Sarah Yaacoub
Nathan Whitaker
For Gold Key works of art and writing in the Awards' 29 categories, including architecture, painting, flash fiction, poetry, printmaking, video game design, and more, the opportunities for recognition will continue when the works are adjudicated again on a national level by a panel of leading creative professionals. National Gold Medalists will be announced on March 13th, 2018, and will be honored during a special awards ceremony at the world-famous Carnegie Hall in New York City in June 2018. All National Medalists are eligible for a wealth of additional opportunities such as inclusion in the Art.Write.Now.Tour traveling exhibition and The Best Teen Writing anthology. National Medalist poets are considered for the National Student Poets Program, the nation's highest honor for young poets presenting original work.
A complete list of 2018 regional Gold Key Scholastic Art & Writing Awards recipients is available online at artandwriting.org.
Every year, SKyPAC has the opportunity to recognize the exceptional work of students from seventh to twelfth grade in almost 30 categories of art and writing. Young artists from throughout the south central region of Kentucky have their artworks adjudicated, with the top winners earning a spot in a gallery at SKyPAC. This year, SKyPAC received almost 600 individual entries and awarding a total of 25 Gold Keys and 36 Silver Keys and 61 Honorable Mentions for outstanding work including 6 American Voices nominees. All awarded works are on display at SKyPAC throughout the month of February and March 2018.