For anyone driving past SKyPAC or the Capitol Arts Center over the past few days, you might have noticed our signage or our building lit red. SKyPAC and the Capitol were among over 1,500 locations across North America to participate in lighting our venues, homes, and cities as part of the #WeMakeEvents initiative on September 1 to raise public and media awareness in support of the live events sector, which has suffered tremendously as a result of COVID-19. It follows a similar event held in the United Kingdom in August which was hugely successful and included 715 buildings/structures glowing in red.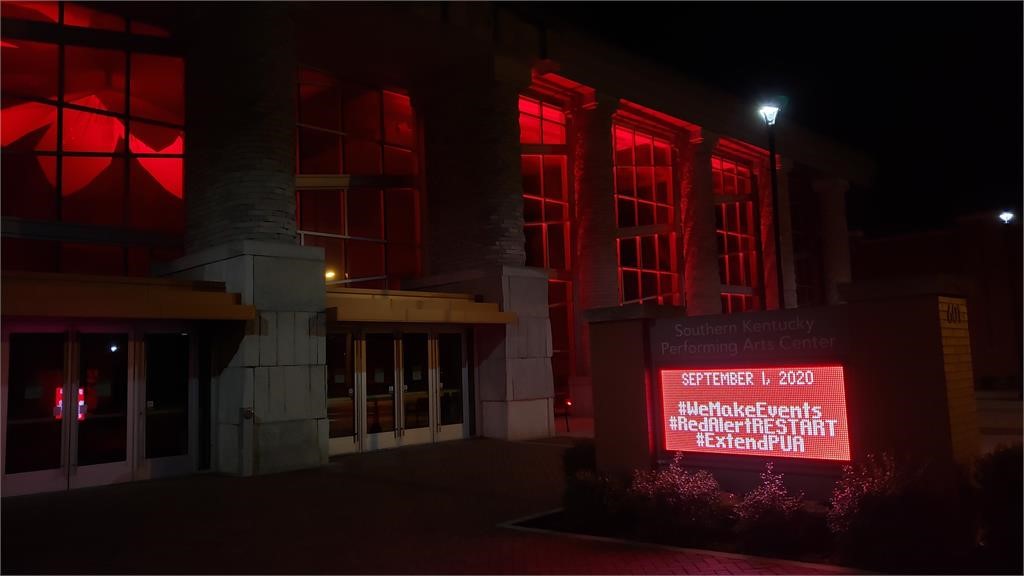 Locally, for SKyPAC and the Capitol Arts Center, we have had over 70 production workers impacted by our closings. Additionally, at least 6 security personnel, 9 ticket office employees, and at least 8 concession workers have also been without jobs because we have been without shows. We have also had to furlough employees to reduce expenditures during a time when no revenue can be generated. These numbers do not even reflect the outside vendors such as hotels, restaurants, and others who have likewise been impacted. According to a 2019 arts and economic prosperity calculation by Americans for the Arts, SKyPAC has an economic impact in total expenditures for organizations and audiences of $5,077,830. The report also indicated we supply a total of 153 full-time equivalent jobs for this community. 
Wednesday's event was organized to highlight the need for government assistance to prevent the total collapse of the live events industry, including all the people involved. #WeMakeEvents is calling for appropriate support by way of relief funding and necessary legislation. They are asking everyone to contact their federal legislators and encourage them to support the RESTART Act, a bill that has stalled while moving through Congress. They are also requesting a continuation and expansion of the PUA (Pandemic Unemployment Assistance) and FPUC (Federal Pandemic Unemployment Compensation) which supplement earnings per week for those on unemployment and open up unemployment to 1099 workers. 
#WeMakeEvents North America is a coalition of trade bodies, businesses, unions, and live events workers coming together to raise public awareness and advocate for the live events sector during the COVID-19 pandemic. For more information, please visit: https://wemakeevents.org. 
We extend best wishes to everyone for a safe and Happy Labor Day weekend. As we commemorate this holiday created and dedicated to the social and economic achievements of American workers, please remember the many live events workers (and countless other sectors of our workforce) who are presently suffering as a result of this pandemic. May we all do our part to provide support during this time of need.