Your funky groove could win FREE tickets to see Saturday Night Fever at SKyPAC on Tuesday, April 26. Unpack your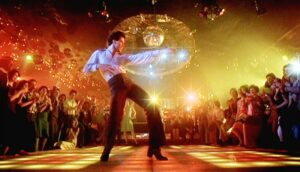 disco clothes, put on your dancin' shoes, and bust out your Tony Manero (John Travolta) moves. Post a video to The SKyPAC Facebook Page of you strutting your stuff to the popular Saturday Night Fever songs Stayin' Alive or Night Fever. No need for professional quality video, but make sure it's 30 seconds or less with adequate sound.
Videos with the most likes will be entered into a drawing for a chance to win a four-pack of tickets to Saturday Night Fever the Musical at SKyPAC on August 26th at 7:30 PM. The winner will be notified by SKyPAC and must confirm acceptance within 24 hours of being contacted or risk disqualification and selection of a new winner. Tickets will be available at will call with photo ID. Contest ends Friday, April 22 at 5 PM (extended deadline).